Travel all over Kyushu for only 10,000 yen! "Minna-no-Kyushu Ticket", with lots of special offers, is now on sale!

The "Minna-no-Kyushu Ticket", which offers unlimited rides on all lines of JR Kyushu for two days, is now on sale. There are two versions, the All-Kyushu Version and Northern Kyushu Version, and the All-Kyushu Version is only 10,000 yen for adults! One of the benefits of this ticket is that you can receive great benefits in all parts of Kyushu.
What is "Minna-no-Kyushu Ticket"?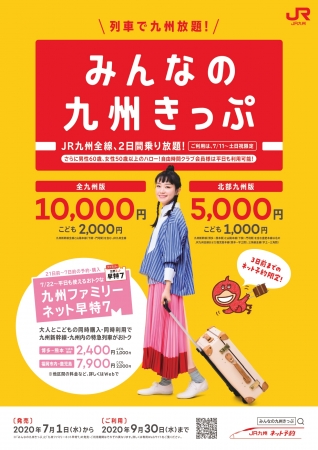 The "Minna-no-Kyushu Ticket" is a discount ticket sold by JR Kyushu that allows unlimited rides on the Kyushu Shinkansen and Limited Express trains. It's valid for two days on weekends and holidays, and during this period you can ride the Kyushu Shinkansen and the limited express trains with unlimited unreserved ordinary-car seats. It's a full-service ticket that allows you to board a reserved seat in a standard car up to six times.
In addition, if you are a member of the "Hello! Jiyu-jikan Club" for 50+ women and 60+ men, after joining this group, you will be able to purchase tickets with the same service "Minna-no-Kyushu Ticket (only be used for Hello! members) "and even can be used on weekdays. Those who are planning to travel, this is a worthy option for you to consider.
2 types of tickets "All Kyushu ticket" and "Northern Kyushu area ticket"
All Kyushu ticket
Northern Kyushu area ticket
Price
10,000 yen (2,000 yen for children)
5,000 yen (1,000 yen for children)
Corresponding route
*All Kyushu Shinkansen lines

*Sanyo Main Line (between Shimonoseki and Moji)

*All JR Kyushu line

*All JR Kyushu lines north of the Hohi Main Line

*Kagoshima Main Line (between Kumamoto and Uto)

*All Misumi lines (between Uto and Misumi)

観光施設情報