Come on, you should "Let's go Uji city" also!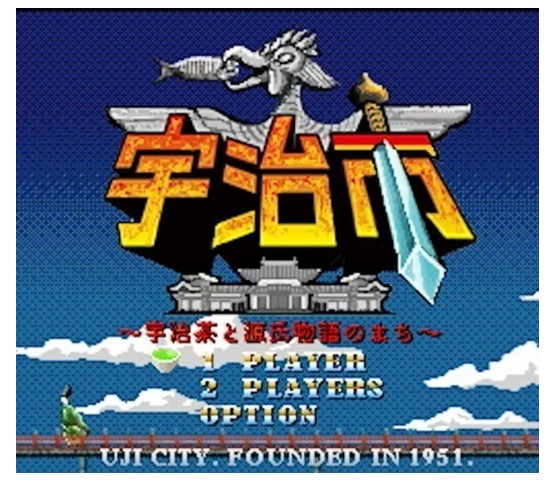 The PR video about tourism that Uji City, Kyoto prefecture publicly released was created with a truly innovative idea. It is completely created as the original 2D side-scrolling action game with motifs of the city's attractions and specialties. (It is not a real game). There are various fascinating cities including the World Heritage Site "Uji City" that has been taken over by the Great Demon King of Nazo! Become a noble in the Heian period and reclaim the beautiful city of Uji! Now, you also "Let's go Uji city"! and it has a nostalgic flavor, this is a video like the collectible game "Uji no Kakera" featuring characters related to the city of Uji, through the historical sites of famous surviving places in the city. Uji street.
Focusing on the parenting generation (30, 40 years old) as the main target, we want to spread the charms of Uji city to as many people as possible and give opportunities to love and promote migration. The goal is to spread the novel worldview of 2D gaming styles over the Internet, something the target generation feels old.
Currently, the total number of video views has been over 500,000 times and has received a lot of attention. It has been featured in the mass media such as TV channels (9 TV channels, 7 newspapers, 1 magazine, 1 radio program and Internet) and the response is very positive. In addition, in a survey of attractiveness of cities across the country (conducted by the Institute of Brand Research Inc., the target is 1000 cities nationwide). It has increased its ranking position from 52 to 37 the previous year, the 2017 hometown tax payment (January to December) compared to 2016 increased by about 600 cases, about 20 million yen. The city's PR video was really worth watching, like I couldn't believe my eyes.
(Uji city PR video) Travel action game
(Uji City – Uji Tea and Genji Monogatari Town)
(Uji city PR video) (live video version)
Travel Action Game (Uji City – Uji Tea and Genji Monogatari Town)

観光施設情報